About me
I'm a Canadian software developer, 3D artist, photographer, musician, blogger, amateur radio operator, and general maker of things. I love to experiment with little-used technologies, and specialize in making things interconnect.
As always, I'm working on multiple projects at the same time and have my head crammed full of technobabble. Currently, I am:
Working on the graphics pipeline powering children's TV productions at Industrial Brothers
Administering experimental internet routing gear
Contributing to the Rust library and tooling ecosystem over on GitHub
Working with low-power radio communication modes
Am I on air?
...given how little time I leave for hobbies some days, probably not. But it's worth a check anyways. If I happen to be reaching you with my transmissions, please QSL.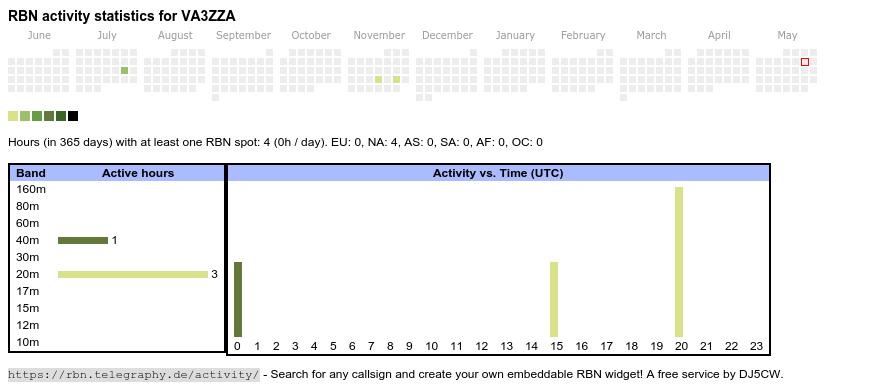 I make music too!
Every once in a while, I get around to uploading a new track or two. If you'd like to hear my musical experiments, check out my profiles on:
Recent events
2022
2021

Nov

Completed the Hurricane Electric IPv6 Certification

Nov

Acquired a /64 and a /48 block of public IPv6 addresses

Nov

Built the Echolink node VA3ZZA-L

Oct

Set up network infrastructure for managing my public IP addresses

Oct

Acquired a /24 block of public IPv4 addresses

Sep

Began an Honours Bachelor of Applied Information Sciences

Aug

Acquired a /29 block of public IPv4 addresses

Jun

Participated in ARRL Summer Field Day, scoring 270 points

2020

Aug

Participated in Google CTF 2020

May

Participated in Hack-A-Sat CTF

Mar

FRC Humber district event finalists as part of Raider Robotics

Feb

Participated in the Canadian Computing Competition

2019

Jun

Participated in Google CTF 2019

Apr

FRC district championships quarter-finalists as part of Raider Robotics

Apr

FRC Western district event semi-finalists as part of Raider Robotics

Mar

Participated in the ECOO Programming Contest

Feb

FRC Ryerson district event quarter-finalists as part of Raider Robotics

Feb

Participated in the Canadian Computing Competition

2018

Sep

Completed Google's *Foobar* programming challenge

Apr

Participated in the ECOO Programming Contest

Mar

FRC Waterloo district event quarter-finalists as part of Raider Robotics

Mar

FRC Georgian district event quarter-finalists as part of Raider Robotics